Christmastime is "the most wonderful time of the year," as the Christmas songs remind us. And with imagination and ingenuity, it's easy to add a little magic to your family's memories of this most special holiday season.
The following ideas take little time or money, but each can add a dimension of warmth and fun to your Christmas celebration. Adapt each suggestion to help make special Christmas memories this year, and to preserve those memories for Christmases to come.
Holiday Organizing Calendar. Make the Christmas season more orderly and festive by using a large desk-blotter-size calendar to help organize and plan your family's holiday season. At the beginning of December, list the holiday activities of each family member on the calendar. Set aside time for family parties, caroling, service activities, visiting friends and relatives, school programs and plays, and other traditional celebrations.
You might even want to set aside time for baking, Christmas tree shopping and other inevitable December activities. By doing so, you can prevent two activities being scheduled at one time, or too much hectic activity the day before Christmas.
Christmas Tree Box. Make Christmas more memorable for a family member on a mission, away in the service or at school, or for an elderly friend who may not plan to have a Christmas tree. Give a Christmas tree in a box along with the gifts you send. Select a box the size of your choice. If the box has a separate lid, tape the lid so that it opens only one way. You may wish to cover the inside of both top and bottom of the box with colorful wrapping paper. Cut from green construction paper a Christmas-tree shape just large enough to fit inside the box lid. "Decorate" the tree with ornaments made from scraps of Christmas wrap, colorful foil, or other festive ornamentation. Paste the decorated paper tree inside the box lid so that the tree seems to stand upright with presents at its base when the box is opened.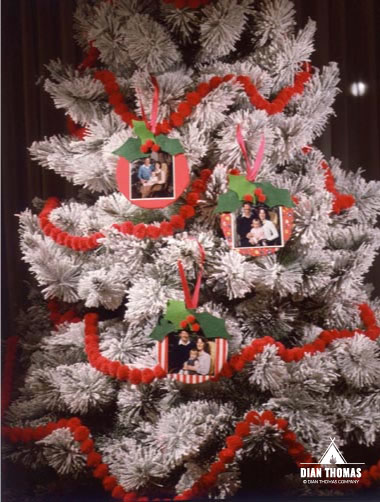 Hanging Gingerbread Men. Let tasty treats help you share Christmas memories with friends who visit your home. Roll out ten to twelve feet of Saran Wrap. Place down lengthwise along the wrap. Leave about two inches between cookies. Fold wrap in from both sides to cover the cookies securely. Using red and green Christmas ribbon or yarn, tie a bow around the wrap above and below each cookie. Hang your string of holiday treats beside the front door with a pair of scissors. As guests leave, snip off a cookie for them to add to the memory of their holiday visit.
Family Photo Ornaments. To preserve memories of your family's Christmas past, add a special ornament to your tree each year. Take (or arrange to have professionally taken) a family photo portrait each year. Mount the photos carefully as a colorful Christmas ornament. (You can make a colorful cardboard or small stuffed fabric frame for your ornament.) As Decembers pass, each ornament becomes a family treasure.
Portrait Stockings. As a variation of the portrait ornaments, you may wish to mount yearly photo portraits of an individual family member on his own Christmas stocking. Sew or buy a large Christmas stocking for your child. Each year add the child's current photograph to the stocking. By the time the child leaves home, his special stocking holds more memories than Christmas presents.
Christmas Memory Book. A large scrapbook or photo album, preferably with loose-leaf binding, can record many Christmas memories for your family's delight over the years. Each year add a section about that year's Christmas celebration to the scrapbook. You may wish to include snapshots of family activities, special letters and cards, party mementoes, and a description of the family's holiday.