If one wants to experience the opulence and luxury of the past there is no place better to go than the Loire Valley.  There are hundreds of Chateaus to see and visit.  As one rides down the bike path in the valley at any corner, one may be met by a huge Chateau.  Chateau is the French word for Castle.
After sending a photo home to a friend, she wrote back as said, "One of these Chateaus makes the White House look like a double-wide trailer.
Years ago, I rode down the Rhine River, where you can see giant castles along the winding river.  I always wanted to return as I thought that was the principal place to see these unique structures.
The biggest Chateau in the valley is found at Chambord.  It has over 300 fireplaces.  It was erected in the 16th century for the king's glory by the most enlightened minds and skillful hands of the times.  If you are in this area near Paris, this is a must-see Chateau.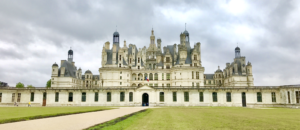 Villandry is renowned for the harmony of its architecture and its beautiful gardens, which are some of the best in Europe.  It is one of the last Chateaux guilt on the banks of the Loire during the Renaissance.
Leonardo de Vinci, famous for his inventions and paintings, spent his last three years in a Chateau on the Loire.  The Chateau du Clos Luce is not only the Chateau where he spend his last year, but it features many of his inventions.  It is definitely a perfect stop for both adults and children.