One of the great joys of biking along the Loire Valley is the fun surprises you discover. My favorite has been the beautiful flowers. At the top of that list are the fields and fields of sunflowers. I saw a photo of sunflowers in a book before visiting France. Then, I said, "I have to find the fields of sunflowers on my bike trip."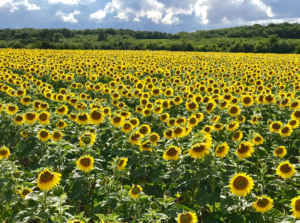 One day as I was going to a Chateau, I saw my first field of these beautiful happy flowers. Each of the flowers was 4 to 6 inches across. Seeing that they all turned their heads toward the sun was interesting. I decided it was  a great place to take a photo so you could see how big these flowers are.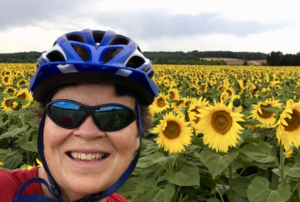 I asked the local people what the flowers are used for. They said that they are raised for sunflower oil.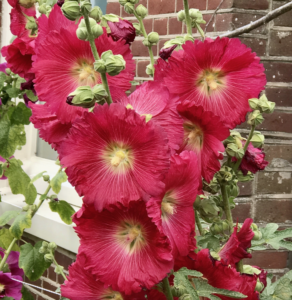 Another beautiful flower I saw a lot of while I biked in France was the hollyhock.  Most of them grew wild along the roads.
As we rode along the path, we often spotted yet another flower I had not seen in the USA.  It was so hard for me not to stop at every flower to photograph it.