Years ago, I flew through the airport in Amsterdam and saw all the pretty tulips.  The Netherlands is the tulip capital of the world.  I decided then that I wanted to return and ride my bike through the fields of tulips.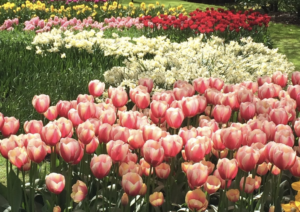 My dream came true a few years later when I gathered a group of friends to go on my tulip adventure.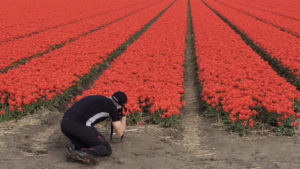 I was to learn that the Netherlands is the bike capital of the world.  There are more bikes per capita than anywhere else.  Everyone has one bike, and often they own two or three.
The country is very flat, making it easy for people not used to hills.  Not only is it a great place to bike, but also it is just a very unique country.  Some things that make it special are the windmills, unusual architecture, and the many canals.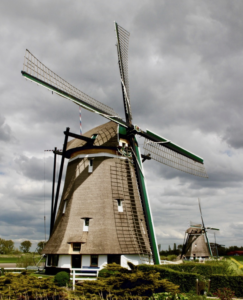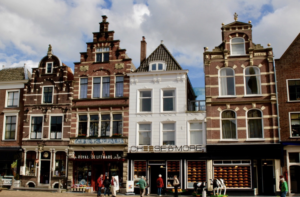 Photo 5 canals
After biking in France for five weeks, I decided it was time to head back to the country where I loved to bike.  It took me two days and seven trains to get Juiced and my bike trailer to Alkmaar, Netherlands.  I had to go on local trains, as they did not have any area for bikes on the speed trains.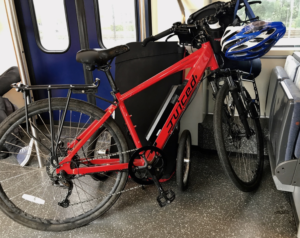 Once I got to Alkmaar, I stayed with a family I met in Russia in 1995.  Kari had worked in the Netherlands for ten years and knew great places to bike.
Since doing this solo, I planned several short trips where I would be gone for three days.  I then returned to plan and went on the next trip.  While in Alkmaar, I learned that it had the oldest cheese market in the world.  Going to the market and watching all the activities that made this an unusual experience was fun.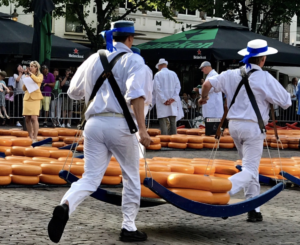 As my seven-week trip with my bike ended, I could not believe that I had traveled over 800 miles and had not had one incident, not even a flat tire, with my trusty bike.  It was a trip that I would never forget.  I left Juiced in the Netherlands so that I could go back and ride and ride to create more amazing memories.