When Dick Jensen, director of Murdock Escorted Tours ask me to go to China for a month to be the escort of three groups coming from the United States, I had no idea I would be traveling with a group of young kids performing for the Chinese people.
When I watched them win the hearts of the Chinese people on the Great Wall, I knew I was in for a treat.
Talent Team is a group of youth from Arizona and Nevada who go abroad every other year, sharing the talents they have developed during the past year. The group was created by Nancy Genys, a Latter-day Saint, in 1992, to help youth learn appreciation for musical arts and to gain confidence though performing. The performers are between the ages of 3 and 18. They meet weekly to learn and prepare for future shows.
Eliza Hutchinson is one of the instructors that accompanied the group. She is now 20, but started in the program when she turned 3. In her short life she has traveled and preformed in Japan, Korea, Hawaii, Great Britain, France, Australia, and New Zealand.
"Performing has opened many doors to me and has allowed me to discover my greatest passion which is traveling. My parents always felt it was important to spend our money on memories instead of material things." Hutchinson is now a student at BYU-Idaho where she is studying to become a foreign ambassador. It was on these travels she discovered her passion and desire to continue to travel the world.
Children with Talent Team raise their own money to pay for their trips. They do fundraisers like selling fireworks, babysitting and selling candy. Through this experience, children learn to work and save their money for their future tours.
The China trip has been four years in the planning stage. This allows children to learn about the culture they will be visiting, save their money, and meet weekly to learn the program they will be performing abroad. Colleen Hutchinson, a national board member, says, "Children gain self-esteem when they have an experience they succeed at." This program has daily opportunities for children to experience success.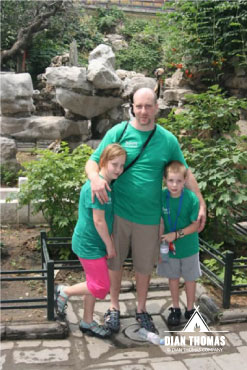 Not only do children benefit, but also the families traveling abroad with the performer learn and experience new and different cultures. If children are under 13, an adult must accompany them. Kurt Moskowitz is a father living in New Hampshire while his daughter lives in Arizona. He saw this experience as an opportunity to have quality time with his daughter, whose time together is limited. "The time I spent with Taylor is priceless. Meeting the other children and getting to know them is a memory that will stay with me for the rest of my life."
James, a father of three young children, brought his two oldest, Caitlyn — one of the performers — and Tyler, 7, who is along for the ride. James said, "It has been great to spend quality time with my children. Sometime they drive me crazy, but what a great experience we have all had creating memories that will last forever.
The tour left the US on June 9 and flew to Hong Kong. This was their first introduction to Chinese people and Chinese food. At lunch they were greeted by duck heads hanging from the window of the restaurant. For many, chopsticks were a new concept. A big bowl of noodles became a challenge for Tyler, just 7, who decided that best was to just get the noodle to his mouth and go from there.
Their performance in Hong Kong was rained, out so the performing troupe went to Disneyland to see how the Asian enjoy a wonderful piece of America. Here they felt right at home and knew that Disney got it right after all.
Their next stop was Beijing and the Great Wall. Here they stepped on their little stage and captured the hearts of the Chinese with their program of Broadway hits. Some of the selections included songs from "Lion King," "Hairspray," and "Grease."
Their next performance was at the Temple of Heaven, where senior Chinese people gather by the thousands to exercise every day. Rain stopped their full performance, but they did what they usually do; they adjusted to the circumstances and found a corner of a covered walkway to stage their magic.
The crowd circled them and spectators were at least seven deep as they sang and danced their hearts out. The most touching part of the program was the smile of joy on the faces of their new friends as music bridged the language barrier.
The Talent Team also took time to learn about some of the products that are native to China. They visited a pearl factory, where they saw freshwater clams opened and learned that more than 30 pearls can be harvest from each clam.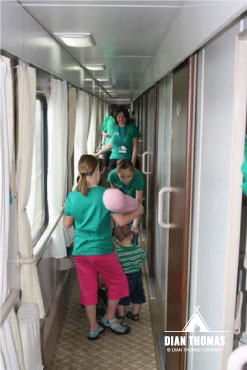 At the silk factory they saw the stages of the cocoon from caterpillar to small ball of silk that is then soaked in hot water until it can be opened and stretched out to be made into silk. Some of them purchased silk comforters to take home.
At the jade factory they got a preview of the Olympic gold, silver, and bronze metals that will all have a circle in each of a different color of jade.
An overnight train ride was their next adventure. The group took up all but one berth of a train car. They soon met three Chinese businessmen, who could not have been more surprised to have a train of American singers and dancers sing a lullaby of "You Are My Sunshine" as they dropped off to sleep. One of the Chinese businessmen pulled out his cell phone to show the kids a photo of his young son at home.
Xi'an was a highlight with a bike ride on the ancient wall that circled the city. This wall was typical of the walls that were built around many of the cities in China to protect inhabitants from invaders. They rode on a wall that was built in the 1400's. Throughout the trip, the kids learned many things about the rich 5000-year history of the Chinese people.
The group took an afternoon to visit and perform at a Chinese orphanage. They prepared bags of school supplies, candy, and toys for the 80 children who live at the orphanage. After the little Chinese children sang, Talent Team took stage and began to dance and sing their way into the hearts of the children, some of whose parents are in prison.
The young Americans played with the orphans and took a tour of the orphanage. They learned that it takes $20 a day for coal to cook and heat the facility. One of the biggest concerns for the people who run the orphanage is to have enough money to buy coal. It was not long before this group had raise $525, which would buy almost a month of coal.
Many of the young performances said that the highlight of the trip was to visit the orphanage and the Terracotta Warriors. The shear majesty of the work put into creating these life-size warriors was stunning for the kids. Sharon Larsen, one of the parents, said that, "The sight of the warriors was breathtaking, and it was difficult to leave that wonderful site."
In just ten days, these young people sang and danced before hundreds while creating an experience that will broaden their prospective that will be with them for the rest of their lives. Now when they hear "China," it will not just be a name on the "big world map." It will bring to mind memories of an experience that touched their hearts and made an eternal connection.