Egg Sailboats
Children love to eat these tiny boats!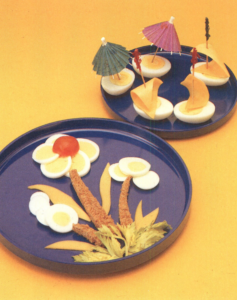 6 hard-cooked eggs, peeled
6 slices of American cheese
12 toothpicks
Cut the eggs in half lengthwise. Cut the cheese slices in half diagonally to form triangular sails and skewer each on a toothpick mast. Stick the toothpick into the egg to form a boat.
Egg Posy
Grown-ups like this flower as much as children do!
1 hard-cooked egg, peeled Salad dressing
1 cherry tomato
1 slice of American cheese 1 slice of toast
Celery leaves
Cut the egg into thin, round slices. Arrange the egg slices in a circular flower pattern with the egg-slice petals overlapping slightly. Spoon your favorite salad dressing in the middle of the circle, and top with a cherry tomato half for the center of the flower. Cut the slice of cheese to form leaves. Add a thin slice of toast for a stem. Arrange celery leaves around the base of the stem.