Learning about food from around the world was my favorite class in college. Taking the class just whet my appetite to travel. After graduation and teaching home economics at Orem Jr. High, I decided to go to Europe . Back then we followed a book entitled Europe on Five Dollars a Da y, and if you watched it, you could make it on five a day. Now days you cannot have lunch on five dollars.
Even with prices up and the dollar down, Europe is still an incredible place to travel. Last month I was invited to be the escort on a Morris Murdock Cruise that went along the upper Mediterranean Sea . We started in Barcelona Spain and then went to the French Riviera, and then on the three cities in Italy , then over to Tunisia in North Africa . It has been over 10 years since I was in Europe . I must say I enjoyed this trip and learned just as much as I did on previous trips, and the food was still incredible.
The first time I went to Europe was in 1969. I was there for three months, and the thing I missed the most was a hamburger. What I noticed now is that you can get a hamburger, and, yes, McDonalds has arrived, but I did not see the number of fast food places that I have seen in other counties. Europeans have their own version of fast food which I called fast fresh.
The breads, cheese, and meat are such a treat. On almost every block in the commercial area you can find at least one and often many more little food shops. In each of them they had wonderful preparations of salad, pizza, and sub sandwiches. I even found a place with sandwiches made from miniature baguettes.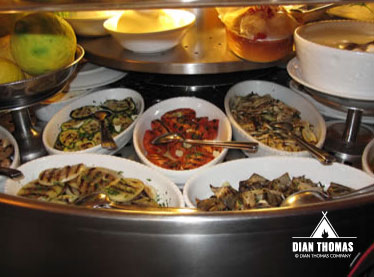 It is so fun to come upon a village where meats or cheeses were developed and then to have a taste. It seemed to make the taste more delicious. When I visited Parma , I bought a block of cheese to take home. Oh, how I enjoyed the wonderful taste. Today in our cheese stores here in the USA , you can often find cheeses that have come from these European Towns. Parmesan is one of the most common. Provolone is another famous European cheese that is easy to find in our stores.
Grilled vegetables and pizzas are high on my list of delicious, fast fresh foods. I went into a restraint near Naples to enjoy a pizza right in the area this famous dish was developed. The main ingredient, mozzarella cheese, was also developed here. Along with the wonderful pizza were beautiful grilled vegetables waiting for a taste.
After having my thin crust pizza with fresh mozzarella cheese, I went outside and found a window and watched the pizza guys make dozens of pizzas. My stomach was full and my eyes were enjoying a pizza feast. Because the pizza crusts are so thin, they only cook for about 5 minutes. As you see, the pizza guys had a big wooded pallet on which they made about six pizzas at a time, and then used it to put the pizzas in the hot wood feed ovens.
One other custom I know about the Europeans is that they shop often in the small markets that are near their homes. I came across a typical fresh fruit and vegetable stand. Just looking at them made me want to buy them and take them home. I saw people with their little shopping bags coming to market to get fresh and delicious fruits and vegetables.
I left the dessert for last. In every country I visited, I found the most delicious pastries. There were beautiful cases of fresh baked item.
I was able to pass up the pastries, but the Italian gelato I just could not pass. I had a cone each day I was in Italy. I thought one would do me, but please take a look at the photo and you will understand why I could not pass by a counter with out picking up a cone.
Each day we went trekking though the wonderful historical sites and, yes, I did take photos, but I just could not resist taking photo after photo of the delicious, fast, fresh food I found in Europe.