In high school, I took an aptitude test in the tenth grade. When the score returned, the school counselor called me into the office. I remember her asking me what I planned to do after high school.
I stood tall and said, "I am going to Brigham Young University."
I remember she took her glasses and put them on as if to get another look. Then she said, "My dear, I do not think you can make it through the university. You got a 14 on the English part of the test, which is not high enough to get you into college. You got 98 on figuring things out, so the test suggests you would be an excellent auto mechanic."
This week, a good friend asked me if I would write an article on how I got from "auto mechanic" to a New York Times bestseller and an eight-year contract on the NBC "Today Show."
  An article published in December 1990, Ensign Magazine shares some of the things I did to get through school:
"My parents were wonderful," Dian says as she flashes her famous smile. "They were so supportive. Knowing my academic limitations helped me get through.
"Even in college, my mother and father would spend huge chunks of time helping me with my reading. They would read aloud to me from the textbooks. I worked hard and strategically to understand what I needed to know; fortunately, my parents didn't have unrealistic expectations of me.
"One thing I did in college was to constantly analyze a class before I signed up to determine the amount and kind of reading required, the types of tests given, and the professor's approach. My information came mostly from students who had taken the class.
For particularly challenging classes, I'd take a class with a friend to have someone study the difficult subject with me. Plus, I would go to a classroom the night before a big test and fill the chalkboards with the theories, formulas, or main ideas to visualize how they all fit together. It helped a lot. It worked."
Another technique Dian used during her college years revealed yet another hint of her potential as the "First Lady of Creativity," as some refer to her: she would study how her teachers tested. Once she saw what teachers based their tests on — lecture notes, chapter review pages of the text, whatever — she would focus on that in her studies.
Looking back on my university years, I realize there are many ways to learn. I was challenged at school as it is more of a left-brain experience which I was not as good at. My right-brain abilities came into play when I 
I remember standing there and wondering if this book would change my life.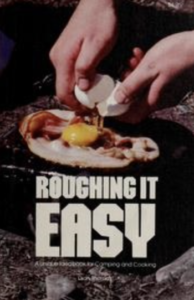 It was just one year and two months after that when I stood on the stage of "The Tonight Show with Johnny Carson," where I entertained him and an audience of millions and showed them how to start a fire with steel wool and batteries, how to boil water in a paper cup and how to cook eggs and bacon in a paper bag.
In the weeks to follow, Roughing it Easy went to the top of the New York Times bestseller list and the door to media entertainment opened wide. I stepped into a career that would take me to a regular job on the NBC "Today Show" for eight years, then ABC's "Home Show" for six years.
Then I went to "Home and Family," which now plays on the Hallmark Channel, and which I still do when I go to Los Angeles.
Now I see that I was smart all the time but my intelligence was not through book learning and rote memorization — it was in experiencing life and sharing that with audiences around the world. Next week I will travel to Halifax, Nova Scotia, and spend that week talking about preparedness with the LDS stake and sharing with the Halifax Chamber of Commerce how to do media.
Life had a different path for me than being an auto mechanic. I am so glad I did not listen to the school guidance counselor, but that I was able to listen to my inner voice and follow a different direction.