This week, bunnies and chicks abound in festive decorations. Here are simple instructions that will allow you to make bunny bags out of paper lunch sacks, and bunny or chick baskets from toilet paper rolls. These are great projects for parents and kids to do together.
Tissue Easter Baskets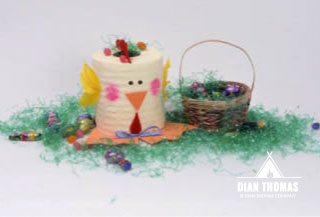 These toilet paper baskets are just the ticket for Easter decorating. Use paper towels to make larger bunnies, ducks, and chicks.
One roll bathroom tissue for each basket
Magic marker (to draw face)
Orange construction paper (duck and chick)
Pink construction paper (bunny)
One (1-1/2 inch) white pompom or cotton ball (bunny tail)
White acrylic paint
Sponge to apply paint
Miniature flowers, pompom, and ribbon
Straw hat for the duck
Glue gun
Easter grass and candies
Draw a face on each roll of tissue. Cut the duck or chick beaks and feet from orange construction paper. Cut ears and feet for bunnies from pink construction paper. Glue ears onto bunny by spreading the paper enough to snug ear in place. Glue beaks and feet in place. Sponge paint on two feet and ears of the bunny to create the appearance of fur. Push Easter grass and candies in the tube. Decorate with small flowers or pom-poms or tie ribbons at the neck, and a hat for the duck.