My fondness for outdoor cooking, which has always been vivid in my memory, began when I was a very young child. My father was a forest ranger in the Manti-La Sal National Forest in the mountains of southern Utah. I loved to accompany him when he took our family to the wilderness for outings and recreation.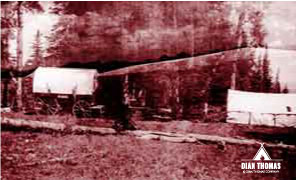 My first taste of outdoor cooking was my dad's homemade sourdough biscuits. Both of my grandfathers raised sheep and lived in sheepherder's wagons. My dad's outdoor cooking followed his father's example, which included baking sourdough biscuits in a Dutch oven. As the biscuits were cooking—and I'm certain they reached at least four inches in height—I remember the fragrant, heavenly scent as steam came wafting out of the oven. I would slather a hot biscuit with butter and honey. Then I would barely need to chew as the delicious biscuit melted in my mouth. I fell in love with outdoor cooking at that moment.
Outdoor recreation has always been my priority. I have continued to learn as much as I could about having fun outside.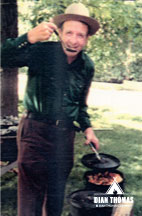 When I was twelve, our family moved to Salt Lake City, site of the 2002 Winter Olympic Games. As a transplant, I felt lost in the big city. But that summer I attended Brighton Girls' Camp, nestled in a pine-filled mountain valley of the Wasatch Mountains, and I knew I had arrived home.
After my first summer experience at Brighton, I wanted to return to the camp as a staff member. I began by working in the camp kitchen as a cook's assistant for two years, then as a counselor for two years, and then as program director for a year. At age 21, I became the camp director and was responsible for hiring and training staff and developing activities for the camp. Ten one-week programs were held each summer for 150 girls each week. As a counselor and camp director, my goal was always to be open to new ideas, activities and recipes. I believe that my early pursuit of limitless variety was a seed that led to my moniker, "first lady of creativity."
After my camp director days, I traveled as a professional speaker with Brigham Young University (BYU) in Provo, Utah, sharing my enthusiasm for outdoor cooking throughout the USA and Canada. I continued to pursue my enthusiasm by teaching both indoor and outdoor cooking classes.
All four of my brothers were Scouts, and I've enjoyed participating in outdoor cooking and recreation with the Scouting program for many years. One of the highlights of my association with the Boy Scouts came when I was asked to judge the outdoor cooking contest for the National Boy Scout Jamboree in Pennsylvania. I've been able to communicate my love for the outdoors to Scouts nationally by writing articles for Scouting.
As I continued to share my creative ideas, I also relished the unique cuisines of all 50 states and over 40 foreign countries. I  even visited Hawaii to learn specifically about pit cooking. I stayed up all night to watch the Hawaiians dig the pit, build the fire and cook the pig for a traditional luau.
My outdoor curriculum thesis was rewritten as my first book, Roughing It Easy. After I appeared on the Tonight Show with Johnny Carson, the book soared to the top of the New York Times best-seller list as nationwide audiences embraced my ideas. Over a million copies of Roughing It Easy were sold, thanks to the national publicity. After three years, my classroom audience moved to screen viewers via television.
During the next fifteen years, I appeared as a regular family member on NBC's Today Show and ABC's Home Show and Good Morning America. I literally came "out of the woods" to teach outdoor cooking to celebrities such as Tom Brokaw, Jane Pauley, Bryant Gumbel, Regis Philbin, Willard Scott, Joan Lunden and even President and Mrs. Reagan. Along with well-known TV personalities, I continued to share my ideas with outdoor enthusiasts and their viewing audiences across the country.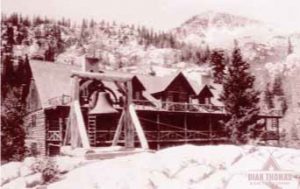 I still love to cook outdoors. The food is wonderful, and the outdoor air enhances the flavor, fun and fellowship. Cooking outdoors sets a stage to share the wonders of nature with family and friends. By preparing enjoyable meals outside, you will create memories that will long be remembered.
Besides encouraging a oneness with nature, outdoor cooking is a sensory experience. Rather than turning a dial to precisely 350ºF., you use all five senses to monitor the cooking. You may watch as corn boils in a pot or hot dogs brown on a grill. You may hear a steak sizzle. You might touch the top of a Dutch oven cake or bread to see if it "feels" done. Feel the steam rise with the palm of your hand. Your sense of smell will help you delight in the full-bodied aroma of food as it cooks.
Bon appétit outdoors!