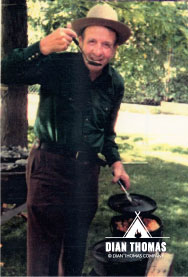 As a young outdoor lover I can to remember anything better the biscuits, pancakes and sourdough my dad would make.
I remember as a ten-year-old going camping with our family. My dad would get up and fire up the fire to burn down the hot coal to go under the on top of the Dutch oven to cook sourdough biscuits. When he opened up that lid and I got a whiff of the sourdough that seemed like it was four inches high, I fell in love with outdoor cooking.
We would take those hot biscuits and spread a little butter and honey, and I assure you we thought we had gone to heaven. Here are the wonderful recipes just waiting for you to create a memorable experience with your family.
Mixing Bread and Biscuits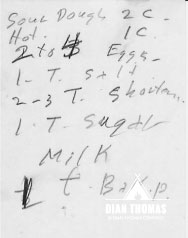 The night before or several hours prior to making bread or biscuits, add 1 cup of flour and ½ cup of warm water to the starter. (Click here to learn how to make sourdough starter.) Sourdough bread dough should be stiffer, left to rise longer, and baked longer than dough for biscuits.
The old-timers who were "packing" carried flour in a seamless or heavy flour sack and rolled the top down to the level of the flour, shaped the flour with their fingers into a bowl, poured starter into the bowl and mixed it. Today, the traditional method for making sourdough is to place flour in a deep kettle or mixing bowl and with the backs of the fingers, mold it into a bowl shape. Into this "well" pour the desired amount of activated sourdough "starter."
Sourdough Breads and Biscuits
Sourdough biscuits were a mainstay for many sheepherders. They may well become a mainstay for you too. The smell and the taste are incredible.
All-purpose flour to cover the bottom of a kettle or bowl
2 cups sourdough starter
1 teaspoon salt
1 teaspoon baking powder
1/4 teaspoon baking soda
1/4 cup shortening or bacon drippings, melted
2 tablespoons sugar
Combine flour, sourdough starter, salt, baking powder, baking soda, shortening or drippings and sugar, using the "well" method described above.
Knead thoroughly by folding from the outside to the center, using your hands or a spoon. Make bread dough stiffer than biscuit dough. Shape into loaves, oblong or round, or biscuits.
Ease dough for bread into a buttered loaf or round heat-proof bowl or an oiled 12-inch Dutch oven, or for biscuits, shape into small balls in your hand and place them side by side into a
buttered or oiled 12-inch Dutch oven or cake pan. Brush the top with oil. Let them rise, covered with plastic wrap, until double in size.
Dutch Oven and At Home
Heat Dutch oven using 10 hot coals on the bottom. Cover with a Dutch oven lid and place 14 hot coals on top. Bake: Bread loaf about 1 hour (350ºF.) Biscuits 20 to 30 minutes (350ºF.)
According to Julia Child, the internal temperature of bread when completely cooked is 200 degrees F at the center.
Sourdough Pancakes
An essential to making good pancakes is cooking them on a hot griddle. The griddle should smoke when greased or oiled, and it should sizzle if water is dropped onto it. Make a small
sample cake to see if it turns golden brown instead of light brown or "whitish." A griddle that is not hot enough will not make good cakes; if it is too hot, cakes will burn. A heavy aluminum or iron griddle, a Dutch oven, or a Dutch oven lid will give pleasing results.
1 cup sourdough starter
1 cup prepared dry pancake mix or all-purpose baking mix
2 eggs
3 tablespoons oil
1 tablespoon sugar
In a medium mixing bowl, blend sourdough starter, dry pancake mix, eggs, oil and sugar. Do not over-stir. If batter is too thick, thin with milk. Add 1/4 teaspoon baking soda if the dough is too sour. Ladle onto a hot griddle. Turn over when light brown.
Serve pancakes warm from the griddle. The quality diminishes if they are stacked or allowed to rest and cool. Makes 10 to 12.
Pancakes plus — add berries, sliced peaches, pineapple, chopped apples, nuts, raisins and bits of ham to batter for extra nutritious pancakes.