Green, but not moldy! 4 leaf clovers are tricky to find, but maybe this delicious shamrock bread loaf will bring some needed good luck.
What You Will Need
2 packages active dry yeast 1-1/4 cups in warm water
Green food coloring in 1 cup warm water (105° to 115°F)
3 tablespoons sugar
2 teaspoons salt
3 tablespoons shortening
6 to 6-1/2 cups bread flour
Butter softened
2 (1″ x 14″) strips of brown paper or parchment baking paper, well-buttered (do not use recycled grocery bags) Florist pins, straight pins, or T-pins
1″ wide green ribbon
Instructions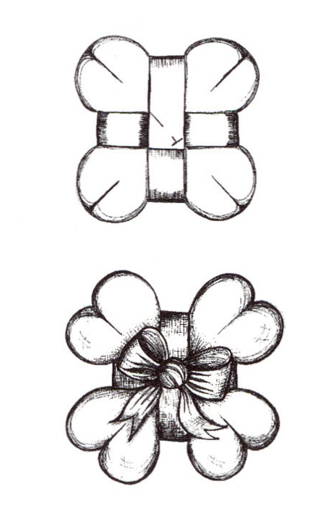 Dissolve yeast in 1-1/4 cups warm water. Add plenty of green food coloring to the liquid (it will lighten as other ingredients are added). Stir in the remaining 1 cup of water, sugar, salt, shortening, and 3-1/2 cups of flour. Beat until smooth. Mix in enough remaining flour to make the dough easy to handle.
Turn the dough onto the lightly floured surface. Knead until smooth and elastic, about 10 minutes. Place in greased bowl; turn greased side up. Cover; let rise in a warm place until double, about 1 hour. The dough is ready if the indentation remains when touched.
Punch down the dough and divide it into halves. Let rest for 10 minutes. Shape each half into a smooth, round ball. Brush lightly with butter.
To make depressions for the ribbon, tie each loaf with 1″ wide heavy brown paper strips, creating four quar­ters. Fasten with a pin. Place each loaf on a 12″ x 18″ greased baking sheet or a 12″-14″ pizza pan.
Let rise until double, about 1 hour. Heat oven to 350°F. Bake loaves on the center rack for 35 to 40 minutes until golden. Immediately remove from pans. Brush tops with butter; cool on wire racks. After the bread has cooled, remove the paper strips and replace them with a green ribbon and a bow.