On day two, the group of 18 I came with was off to see Paris.  It was still hard for me to believe that I was really riding through the streets of this famous city.  Dale our leader assured us that riding bikes in the big city was very common and that we would not have any problem as long as we were careful.  Yes, the cars seemed to go around our bikes and wait for us when we were not sure what we were doing.
Norte Dame was at the top of my list to see.  It is one of the most famous monuments in Paris.  It is one of the finest examples of French Gothic architecture and is one of the largest and most well-known churches in the world.   The kids had fun running after the pigeons in the courtyard.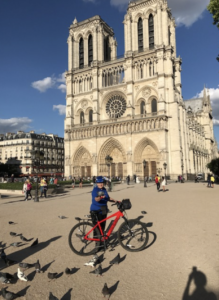 Norte Dame is located right on the Seine River that goes right through Paris.  There are bike paths along the river.  We followed the trail along the river to the most famous landmark the Eiffel Tower.  As far as you could see were groups of people from all over the world sitting on the grass enjoying the view waiting for the right time when the lights would go on the tower.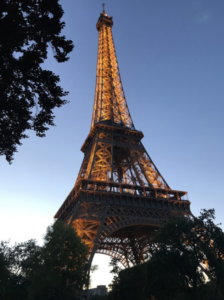 Dark over here is about 10:00 PM so it was very late when the lights finally went on this most famous landmark.  It was a long ride home in the dark after.  This was the perfect way to end our first really big bike day in Paris.